A couple of weeks back, a mini-book by Luiz André Barroso and Urs Hölzle of the Google infrastructure team was released. The Datacenter as a Computer: An Introduction to the Design of Warehouse-Scale Machines is just over 100 pages long but an excellent introduction into very high scale computing and the issues important at scale.
From the Abstract:
As computation continues to move into the cloud, the computing platform of interest no longer resembles a pizza box or a refrigerator, but a warehouse full of computers. These new large datacenters are quite different from traditional hosting facilities of earlier times and cannot be viewed simply as a collection of co-located servers. Large portions of the hardware and software resources in these facilities must work in concert to efficiently deliver good levels of Internet service performance, something that can only be achieved by a holistic approach to their design and deployment. In other words, we must treat the datacenter itself as one massive warehouse-scale computer (WSC). We describe the architecture of WSCs, the main factors influencing their design, operation, and cost structure, and the characteristics of their software base. We hope it will be useful to architects and programmers of today's WSCs, as well as those of future many-core platforms which may one day implement the equivalent of today's WSCs on a single board.
Some of the points I found particularly interesting:
· Networking:
o Commodity switches in each rack provide a fraction of their bi-section bandwidth for interrack communication through a handful of uplinks to the more costly cluster-level switches. For example, a rack with 40 servers, each with a 1-Gbps port, might have between four and eight 1-Gbps uplinks to the cluster-level switch, corresponding to an oversubscription factor between 5 and 10 for communication across racks. In such a network, programmers must be aware of the relatively scarce cluster-level bandwidth resources and try to exploit rack-level networking locality, complicating software development and possibly impacting resource utilization. Alternatively, one can remove some of the cluster-level networking bottlenecks by spending more money on the interconnect fabric.
· Server Power Usage: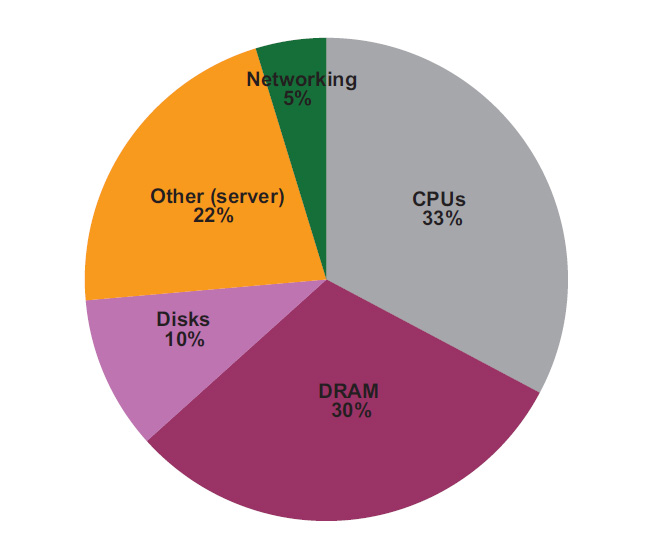 · Buy vs Build:
Traditional IT infrastructure makes heavy use of third-party software components such as databases and system management software, and concentrates on creating software that is specific to the particular business where it adds direct value to the product offering, for example, as business logic on top of application servers and database engines. Large-scale Internet services providers such as Google usually take a different approach in which both application-specific logic and much of the cluster-level infrastructure software is written in-house. Platform-level software does make use of third-party components, but these tend to be open-source code that can be modified inhouse as needed. As a result, more of the entire software stack is under the control of the service developer.
This approach adds significant software development and maintenance work but can provide important benefits in flexibility and cost efficiency. Flexibility is important when critical functionality or performance bugs must be addressed, allowing a quick turn-around time for bug fixes at all levels. It is also extremely advantageous when facing complex system problems because it provides several options for addressing them. For example, an unwanted networking behavior might be very difficult to address at the application level but relatively simple to solve at the RPC library level, or the other way around.
The full paper: http://www.morganclaypool.com/doi/pdf/10.2200/S00193ED1V01Y200905CAC006
James Hamilton, Amazon Web Services
1200, 12th Ave. S., Seattle, WA, 98144
W:+1(425)703-9972 | C:+1(206)910-4692 | H:+1(206)201-1859 | james@amazon.com
H:mvdirona.com | W:mvdirona.com/jrh/work | blog:http://perspectives.mvdirona.com