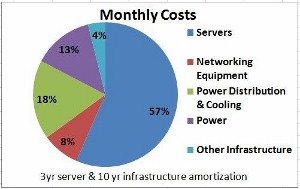 A couple of years ago, I did a detailed look at where the costs are in a modern , high-scale data center. The primary motivation behind bringing all the costs together was to understand where the problems are and find those easiest to address. Predictably, when I first brought these numbers together, a few data points just leapt off the page: 1) at scale, servers dominate overall costs, and 2) mechanical system cost and power consumption seems unreasonably high. Both of these areas have proven to be important technology areas to focus upon and there has been considerable industry-wide innovation particularly in cooling efficiency over the last couple of years.
I posted the original model at the Cost of Power in Large-Scale Data Centers. One of the reasons I posted it was to debunk the often repeated phrase "power is the dominate cost in a large-scale data center". Servers dominate with mechanical systems and power distribution close behind. It turns out that power is incredibly important but it's not the utility kWh charge that makes power important. It's the cost of the power distribution equipment required to consume power and the cost of the mechanical systems that take the heat away once the power is consumed. I referred to this as fully burdened power.
Measured this way, power is the second most important cost. Power efficiency is highly leveraged when looking at overall data center costs, it plays an important role in environmental stewardship, and it is one of the areas where substantial gains continue to look quite attainable. As a consequence, this is where I spend a considerable amount of my time – perhaps the majority – but we have to remember that servers still dominate the overall capital cost.
This last point is a frequent source of confusion. When server and other IT equipment capital costs are directly compared with data center capital costs, the data center portion actually is larger. I've frequently heard "how can the facility cost more than the servers in the facility – it just doesn't make sense." I don't know whether or not it makes sense but it actually is not true at this point. I could imagine the infrastructure costs one day eclipsing those of servers as server costs continue to decrease but we're not there yet. The key point to keep in mind is the amortization periods are completely different. Data center amortization periods run from 10 to 15 years while server amortizations are typically in the three year range. Servers are purchased 3 to 5 times during the life of a datacenter so, when amortized properly, they continue to dominate the cost equation.
In the model below, I normalize all costs to a monthly bill by taking consumable like power and billing them monthly by consumption and taking capital expenses like servers, networking or datacenter infrastructure, and amortizing over their useful lifetime using a 5% cost of money and, again, billing monthly. This approach allows us to compare non-comparable costs such as data center infrastructure with servers and networking gear each with different lifetimes. The model includes all costs "below the operating system" but doesn't include software licensing costs mostly because open source is dominant in high scale centers and partly because licensing costs very can vary so widely. Administrative costs are not included for the same reason. At scale, hardware administration, security, and other infrastructure-related people costs disappear into the single digits with the very best services down in the 3% range. Because administrative costs vary so greatly, I don't include them here. On projects with which I've been involved, they are insignificantly small so don't influence my thinking much. I've attached the spreadsheet in source form below so you can add in factors such as these if they are more relevant in your environment.
Late last year I updated the model for two reasons: 1) there has been considerable infrastructure innovation over the last couple of years and costs have changed dramatically during that period and 2) because of the importance of networking gear to the cost model, I factor out networking from overall IT costs. We now have IT costs with servers and storage modeled separately from networking. This helps us understand the impact of networking on overall capital cost and on IT power.
When I redo these data, I keep the facility server count in the 45,000 to 50,000 server range. This makes it an reasonable scale facility –big enough to enjoy the benefits of scale but nowhere close to the biggest data centers. Two years ago, 50,000 servers required a 15MW facility (25MW total load). Today, due to increased infrastructure efficiency and reduced individual server power draw, we can support 46k servers in an 8MW facility (12MW total load). The current rate of innovation in our industry is substantially higher than it has been any time in the past with much of this innovation driven by mega service operators.
Keep in mind, I'm only modeling those techniques well understood and reasonably broadly accepted as good quality data center design practices. Most of the big operators will be operating at efficiency levels far beyond those used here. For example, in this model we're using a Power Usage Efficiency (PUE) of 1.45 but Google, for example, reports PUE across the fleet of under 1.2: Data Center Efficiency Measurements. Again, the spread sheet source is attached below so feel free to change to the PUE used by the model as appropriate.
These are the assumptions used by this year's model:

Using these assumptions we get the following cost structure: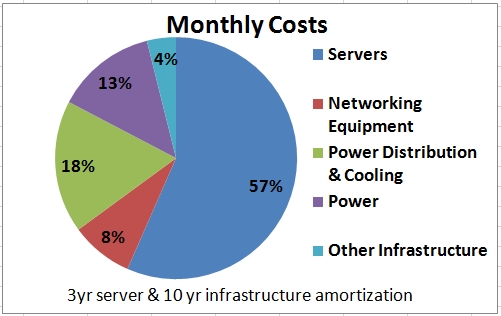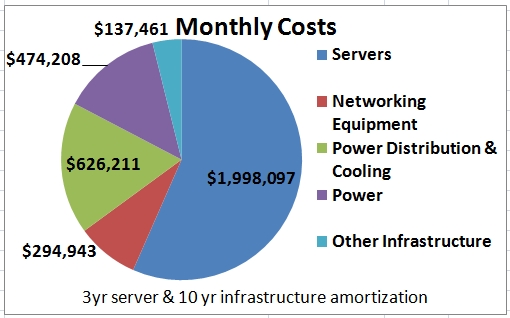 For those of you interested in playing with different assumptions, the spreadsheet source is here: http://mvdirona.com/jrh/TalksAndPapers/PerspectivesDataCenterCostAndPower.xls.
If you choose to use this spreadsheet directly or the data above, please reference the source and include the URL to this pointing.
–jrh
b: http://blog.mvdirona.com / http://perspectives.mvdirona.com