As rescue and relief operations continue in response to the serious flooding in Thailand the focus has correctly been on human health and safety. Early reports estimated 317 fatalities, 700,000 homes and 14,000 factories impacted with over 660,000 not able to work. Good coverage mostly from the Bangkok Post is available at Newley.com authored by a reporter in the regoin. For example: http://newley.com/2011/11/02/thailand-flooding-update-november-2-2011-front-page-of-todays-bangkok-post/.
The floods are far from over and, as we look beyond the immediate problem in country, the impact on the technology world is expected to continue for just over a year even if the floods do recede in 3 to 4 weeks as expected. Disk drives are particularly hard hit with Digitimes Research reporting that the flood will create a 12% HDD supply gap in the 4th quarter of 2011 and the gap may increase into 2012. Digitimes estimates the 4Q11 hard disk drive shortage to reach 19 million units.
Western Digital was hit the hardest by the floods with Tim Leyden, WD COO describing the situation in the last investor quarterly report as:
The flooded buildings in Thailand include our HDD assembly, test and slider facilities where a substantial majority of our slider fabrication capacity resides. In parallel with the internal slider shortages resulting from the above disruption, we are also experiencing other shortages on component parts from vendors located in several Thai industrial parks that have already been inundated by the floods, or have been affected by protective plant shutdowns. We are evaluating the situation on a continuous basis, but in order to get these facilities back up and running, we need the water level to stabilize, after which point it will take some period of time for the floods to recede. We are assessing our options so that we can safely begin working to accelerate the water removal and either extract and transfer the equipment to clean-rooms in other locations or prepare it for operation on-site. As a result of these activities, at this point in time, we estimate that our regular capacity and possibly our suppliers capacity will be significantly constrained for several quarters.
Toshiba reports Impact of the Floods in Thailand they were seriously impacted as well:
Location: Navanakorn Industrial Estate Zone, Pathumtani, Thailand
Main Product: Hard Disk Drive
· Damage status: The water is 2 meters high on the site and the surrounding area and more than 1 meter deep in the buildings. Facilities are damaged but no employees have been injured in the factory.
· Alternative sites: We have started alternative production at other factories, but the production volume will be limited by available capacity.
· Operation: All the employees have been evacuated from the industrial zone, at the order of the Thai government. With the water at its current level, we anticipate a long-term shutdown. The date of resumption of operation is unpredictable.
Because the hard disk supply chain is heavily represented in this region, many hard disk manufacturers with unaffected plants will still lose capacity. Noble Financial Equity Research made the following 4th quarter shipped volume estimates: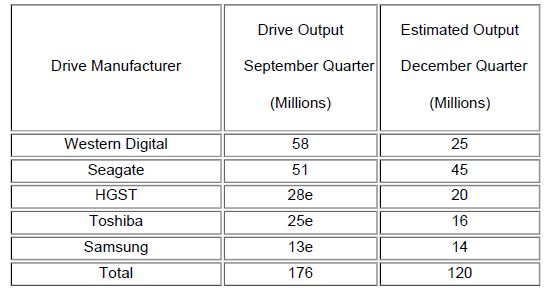 Continuing with data from Noble Financial Equity Research:
· Due to the effects of flooding, we do not expect the industry to return to normalcy for 3 to 4 quarters
· We see only 120M drives shipped this quarter versus the TAM (total addressable market) of 175M to 180M units
· Due to lack of channel and finished goods inventory, the supply shortfall in the March quarter is also expected to be sever despite higher expected drive shipments and component availability
· By shifting production out of Asian plants, critical component supplier Nidec believes it can ramp to an output of 170 drive motors by the March quarter
· We see significantly higher drive and component prices persisting into the summer months of 2012
· Seagate will be the principal beneficiary of the supply shortage and higher pricing
· We believe Hutchinson (drive suspension manufacturer) will be able to rapidly ramp its US assembly operations and higher suspension prices will offset the reduced business from Western Digital
b: http://blog.mvdirona.com / http://perspectives.mvdirona.com