Two years ago I met with the leaders of the newly formed Dell Data Center Solutions team and they explained they were going to invest deeply in R&D to meet the needs of very high scale data center solutions. Essentially Dell was going to invest in R&D for a fairly narrow market segment. "Yeah, right" was my first thought but I've been increasingly impressed since then. Dell is doing very good work and the announcement of Fortuna this week is worthy of mention.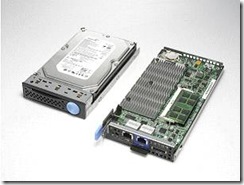 Fortuna, the Dell XS11-VX8, is an innovative server design. I actually like the name as proof that the DCS team is an engineering group rather than a marketing team. What marketing team would chose XS11-VX8 as a name unless they just didn't like the product?
The name aside, this server is excellent work. It is based on the Via Nano and the entire server is just over 15W idle and just under 30W at full load. It's a real server with 1GigE ports, full remote management via IPMI 2.0 (stick with the DCMI subset). In a fully configured rack, they can house 252 servers only requiring 7.3KW. Nice work DCS!
6 min video with more data: http://www.youtube.com/watch?v=QT8wEgjwr7k.
–jrh
James Hamilton, Amazon Web Services
1200, 12th Ave. S., Seattle, WA, 98144
W:+1(425)703-9972 | C:+1(206)910-4692 | H:+1(206)201-1859 | james@amazon.com
H:mvdirona.com | W:mvdirona.com/jrh/work | blog:http://perspectives.mvdirona.com