ARM just announced a couple of 2-core SMP design based upon the Cortex-A9 application processor, one optimized for performance and the other for power consumption (http://www.arm.com/news/25922.html). Although the optimization points are different, both are incredibly low power consumers by server standards with the performance-optimized part dissipating only 1.9W at 2Ghz based upon the TSMC 40G process (40nm). This design is aimed at server applications and should be able to run many server workloads comfortably.
In Linux/Apache on ARM Processors I described an 8 server cluster of web servers running the Marvell MV78100. These are single core ARM design servers produced by Marvell. It's a great demonstration system showing that web server workloads can be run cost effectively on ARM based servers. Toward the end of the blog entry, I observed:
The ARM is a clear win on work done per dollar and work done per joule for some workloads. If a 4-core, cache coherent version was available with a reasonable memory controller, we would have a very nice server processor with record breaking power consumption numbers.
I got a call from ARM soon after posting saying that I may get my wish sooner than I was guessing. Very cool. The Design that was announced earlier today includes a 2-core, performance optimized design that could form the building block of a very nice server. In the following block diagram, ARM shows a pair of 2-core macros implementing a 4-way SMP: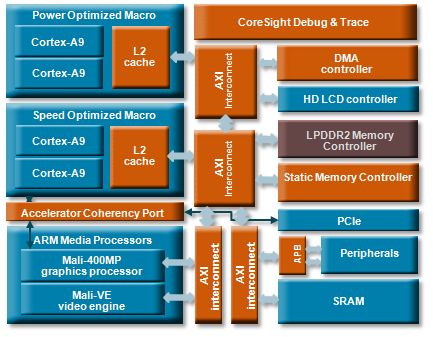 Some earlier multi-core ARM designs such the Marvel MV78200 are not cache coherent which makes it difficult to support a single application utilizing both cores. As long as this design is coherent (and I believe it is), I love it.
Technically it's long been possible to build N-way SMP servers based upon the single core Cortex-A9 macros but it's quite a bit of design work. The 2-way single macro makes it easy to deliver at least 2-core servers and this announcement shows that ARM is interested in and is investing in developing the ARM-based server market.
The ARM reported performance results: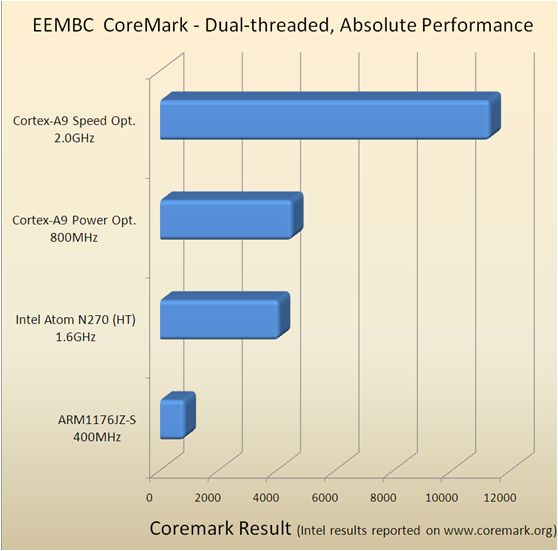 In the ARM business model, the release of a design is the first and most important step towards parts becoming available from partners. However, it's typically at least 12 months from design availability to first shipping silicone from partners so we won't likely see components based upon this design until late 2010 at the earliest. I'm looking forward to it.
Our industry just keeps getting more interesting.
–jrh
b: http://blog.mvdirona.com / http://perspectives.mvdirona.com