Dave Patterson did a keynote at Cloud Futures 2010. I wasn't able to attend but I've heard it was a great talk so I asked Dave to send the slides my way. He presented Cloud Computing and the Reliable Adaptive Systems Lab.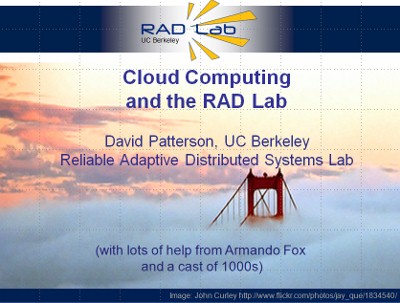 The Berkeley RAD Lab principal investigators include: Armando Fox, Randy Katz & Dave Patterson (systems/networks), Michael Jordan (machine learning), Ion Stoica (networks & P2P), Anthony Joseph (systems/security), Michael Franklin (databases), and Scott Shenker (networks) in addition to 30 Phd students, 10 undergrads, and 2 postdocs.
The talk starts by arguing that cloud computing actually is a new approach drawing material from the Above the Clouds paper that I mentioned early last year: Berkeley Above the Clouds. Then walked through why pay-as-you-go computing with small granule time increments allow SLAs to be hit without stranding valuable resources.
The slides are up at: Cloud Computing and the RAD Lab and if you want to read more about the RAD lab: http://radlab.cs.berkeley.edu. If you haven't already read it, this is worth reading: Above the Clouds: A Berkeley View.
–jrh
b: http://blog.mvdirona.com / http://perspectives.mvdirona.com