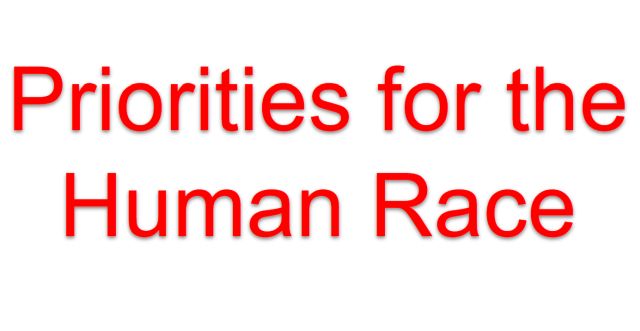 I was recently in a super interesting discussion mostly focused on energy efficiency and, as part of the discussion, the claim was raised that Nobel Laureate Richard Smalley was right when he said that Energy was the number one challenge facing our planet. I'm a pretty big believer in energy efficiency and the importance of renewable energy so, without having read exactly what Smalley said, I agreed it was a very important area. With low cost energy, we can make water from sea water. If the low cost energy source is a low cost and clean source, the global warming problem could be addressed. I definitely can see some of why he might rank it number 1 but I wasn't sure I would.
I wanted to dig deeper into what Smalley said but before thinking through his list of the top problems for humanity, I thought it would be worth building my own list. I find that the best way to know what your current priorities really are is not to think too hard about it and just quickly write them down. Your list might need some re-ordering and you might find you need to add one or two upon deeper reflection but the "write it down fast" approach isn't a bad way to understand your current priorities best.
If you feel like it, write down your list of 5 to 10 of the biggest problems you think face humanity. You may miss some in just diving in without doing any research but it does tell you your current and most immediate priorities. Here's my list:
Population Growth​: this drives food shortages, energy shortages, global warming, heightens the risk of epidemiological risks, and resource shortages cause tensions that always lead to low scale conflicts and often lead to large scale wars.
Global Warming: Climate change and the negative impacts that follow from global warming.
Virus and Epidemiological Risks: Virus and widespread pandemic risks whether from natural sources or the human race not getting along as well as we should.
Polarization and Intolerance of "different": Decreasing world-wide respect for people who worship different gods, look different, practice a different form of government, or chose to live their lives differently. Leads to wars that shouldn't happen. Leads to massive increase in terrorism in many different forms. Leads to entire countries turning inward and, within countries, causes polarization and increasingly extreme positions to become the norm.
Low cost renewable energy: I would love to see us all become more energy efficient and simply use less energy but more than a third of the world is living in poverty. All these people deserve a better lifestyle and there is just about no way to live a better lifestyle without consuming more energy. We all want to see the next third of the world to climb up over the poverty line so we have to accept that there will be more energy consumption even if the world's richest nations actually get smart and squeeze out most of the wastage. I'm not particularly optimistic on this latter point which makes finding low cost renewable energy even more important to me. Energy efficiency alone won't do it. We need to get to low cost renewables. That might do it but current population growth rates both reduce the time we have to work and mean that low cost renewable energy alone won't work unless the renewable power source is cheaper than coal. If it's not, an emerging economy probably will not pay more to get less energy.
For me, energy isn't number one even though it's right near the top of what I work upon most. Population growth appears to be the most dominant problem and, in my view, a solution there would reduce the magnitude of many of the rest of my top 5 greatly and some would no longer be big issues. For example, a non-renewable energy economy isn't ideal but, with a small population would work fine for a very long time.
For comparative purposes, I looked up Richard Smalley's list of top 10 problems facing humanity in 2004:
Energy
Water
Food
Environment
Poverty
Terrorism & war
Disease
Education
Democracy
Population
Smalley has a good list and it's worth thinking through where it matches and where it differs from yours. For comparison, here is a closely related top 10 from the UN High-Level Panel on Threats, Challenges, and Change in 2004:
Poverty
Infectious disease
Environmental degradation
Inter-state war
Civil war
Genocide
Other atrocities (e.g., trade in women and children for sexual slavery, or kidnapping for body parts)
Weapons of mass destruction (nuclear proliferation, chemical weapon proliferation, biological weapon proliferation)
Terrorism
Transnational organized crime
My number one, human population, didn't even make the list for this group and wasn't near the top of Smalley's list. I personally have population at the top of my list because so many of our problems have the resource consumption of 7.7B (heading quickly towards 10B) at the core. Looking at many unrelated and difficult issues facing humanity, our population size in absolute numbers is an accelerant for many of them. By analogy, population is not always the cause of the fire but population does feed it.